Masonry & Concrete Contractor in Racine, WI
Langenfeld Masonry & Concrete has been providing high-caliber concrete pouring and paving, as well as masonry and brickwork services to Racine, Kenosha and South Milwaukee counties since 1912! In addition, our concrete contractors also offer waterproofing, foundation pouring, repair and more. We're the best at what we do, with a long history of completed projects and satisfied customers to prove it!
We're a 5th generation concrete and masonry contractor with more than 38 years of current experience to provide to our customers!
Much of our work comes from referrals and we're proud to boast a customer satisfaction rate of 99%!
Our staff consists of experts who can provide you with answers to any questions you might have about your masonry or paving project.
Our business is fully licensed, bonded and insured for your protection and peace of mind.
Beautiful Brickwork and Paving Services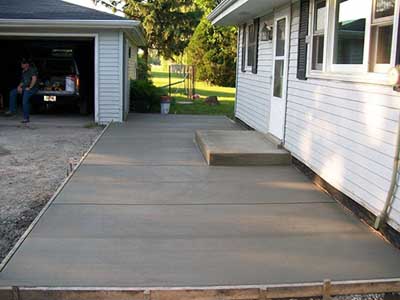 Few businesses can say they've been masters of their craft for 5 generations. At Langenfeld Masonry & Concrete, we can! In fact, we've spent the last 100 years building our skills and expertise, along with our reputation as the very best masonry contractor in Racine, WI. Throughout the years we've tackled projects big and small—everything from simple flatwork, to large-scale commercial masonry, to foundation repair and more. Our ability to approach any project, assess its needs and execute with precision and quality workmanship has set us apart for more than a century!
We specialize in block and retaining walls, as well as any and all flatwork and general masonry projects. Residential customers rely on us for driveways, patios, and more. Commercial customers look to us for the same, in addition to brick and stone façades. For customers with foundation demands, we're able to provide everything from paving, to repair, to brand-new concrete foundations in Racine, Racine County, Mt Pleasant, and Sturtevant, WI for home additions and expansions. When it comes to bricks, blocks, stone and cement, we're truly masters of our craft! Contact our concrete and masonry contractors with the details of your project and let us show you with 5 generations of honed skill and experience look like when it comes to a quality finished project!
Get a Paving Quote
Get your driveway paved, block walls built or foundation fixed with the help of Langenfeld Masonry & Concrete! We're happy to provide you with a scope of work and a quote today.
For all of your masonry and concrete needs, contact the concrete contractors who know best! Proudly serving Racine WI and surrounding ares, including:
Delavan WI
Elkhorn WI
Burlington WI
Rochester WI
Waterford WI
Kansasville WI
Union Grove WI
Yorkville WI
Mt Pleasant WI
Mequon WI
Glendale WI
Oak Creek WI
Pleasant Prairie WI
Kenosha WI
Sturtevant WI
Racine County WI
Kenosha County WI
Walworth County WI
Waukesha County WI