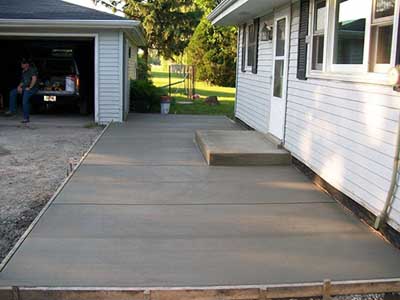 It pays to trust the experts when you need work done on your concrete sidewalks or driveways. At Langenfeld Masonry & Concrete, we have decades of experience when it comes to concrete projects of varying capacities, enabling us to provide our clients with best-in-class results. Whether you need new concrete driveways or concrete foundations poured, you can put stock in our concrete work.
Concrete Pouring and Paving
Thanks to our lifelong experience with the harsh Wisconsin climate, we're able to approach and execute on concrete pouring and paving confidently. We know what aggregate to use, how to mix and pour, and what the right setting conditions are to give you clean, strong concrete. Some of the many projects we're seasoned with include:
Basements
Concrete paving
Curbs
Driveways
Garage slabs
Gutters
Patios
Foundations
Sidewalks
Our team is also ready to help you plan and execute concrete projects specific to your property. No matter what you need or what the scope of the paving is, count on us to walk you through it and provide you with a free estimate on service. From simple stairs to entire concrete driveways and concrete foundations in Racine, Racine County, Mt Pleasant, and Sturtevant, WI, we do it all.
Concrete Repair
We don't just pour and pave for brand-new concrete sidewalks and foundations—we're also experts at fixing concrete where it's damaged. Whether because of the elements or damaged cause by neglect/accident, we'll expertly assess and resolve your concrete damages to leave behind a clean, strong, reliable surface. From cracked or gouged patios to comprehensive driveway repairs in Racine, WI, no job is too big for us to set right.
Contact the Concrete Experts
With abilities that span residential, commercial and industrial projects, Langenfeld Masonry & Concrete welcomes the chance to coordinate and execute on your upcoming concrete project. Contact us at 262-639-9257 to speak with one of our knowledgeable experts about the specifics of your pouring and paving or repair project, whether it's for block walls, retaining walls, drain tiles, or beyond.